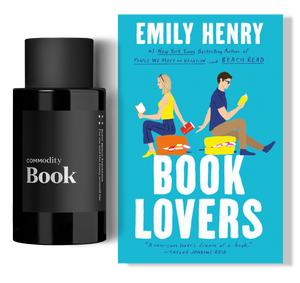 "It's the same subtle gender-neutral cologne I wear. A cedarwood and amber blend called BOOK, meant to summon images of sunbathed shelves and worn pages."
– Book Lovers by Emily Henry
Our bestselling Book Expressive fragrance paired with a complimentary, signed copy of Book Lovers, the New York Times Best Seller that brings it to life.
Plus, a personal letter from the author, Emily Henry, exclusively written for Commodity—and Book—fans.
Read about Book Lovers below.
Such a good idea!
I wanted to buy Book for a while, and when I saw this collab I knew this was a sign from the universe. I am OBSESSED with Book Lovers and had been wondering if this was really the perfume Nora & Charlie are wearing. Now I can channel my inner Nora AND I also have the signed book. I'm honestly over the moon.
Book Lover
It smells great and it lasts all day long! I love it, and the book with the autograph… simply gorgeous! Since I read Book Lovers I've wanted to find that perfume described in the book and I must say Book didn't disappoint. It's incredible!
I love this scent!
This scent is so amazing and sticks to my skin so well and it such a nice smell. I was worried it would be overpowering but it is perfect for your senses and the people around you.
Fantastic scent for the fall
This fragrance is dark, broody, and mysterious. Think of spending a nice cool day in a cabin snuggled up with a blanket and a book and you'll have Book.
More of Book
Book-

Book+

Book Scent Space Kit